I don't know about you, but I truly enjoy
Thanksgiving and I absolutely hate going to the store and seeing the holiday practically passed over by Christmas. Don't get me wrong, I love Christmas, but it seems that Thanksgiving gets little to no real attention.
Thanksgiving is the only holiday in my oh so humble opinion that has NOT been commercialized, meaning it is celebrated for what it is. Every year people get together with family and friends, serve the traditional turkey and potatoes and pumpkin pie to give thanks.
Little kids dress up as pilgrims in costumes they make at school. I think kids really like this holiday because ALL kids can participate if you get my meaning. Don't you remember your kids coming home from school in their pilgrim or Indian hat?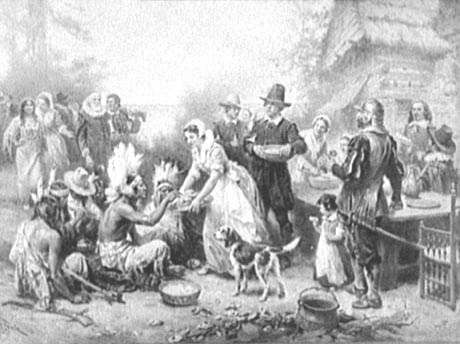 I am not blessed with the Betty Crocker skills like my two other sisters, don't get me wrong, I CAN cook I just not a turkey. So for years I bought my turkey dinner, just reheat and serve. It was quite good if I do say so myself. I mean for $40 where can you feed a family a 15lb turkey, mashed potatoes, gravy, vegetable, cranberry jelly mold, stuffing, rolls, and a 9" pumpkin pie. Really, Seriously. I did this for years until my trusted friendly store decided to play a cruel joke on me and stop selling this prepared meal.
I practically hyperventilated right there in the store. Hey lady....are you okay?...they were saying to me as I walked in the shadow of death to the meat department to do battle with the turkeys. Those darn turkeys just taunted me. So there I was, thrust into the kitchen having to cook a complete turkey dinner! I am on the phone calling my mother and my sister for help. I mean, how do you make gravy from drippings??????!!! I had absolutely no idea. Thank GOD for packaged gravy, just add water. The lame cookers best friend. I was glad that people showed up early so I could say YES to their " do you need any help?"
Well, you will be proud to know that I have really come into my own in the kitchen as far as Turkey dinner. My turkeys could be seen in the top chef magazines, that is if someone was willing to send in a picture......which they aren't. Probably jealous if you ask me. AND, AND, I was in my trusted grocery store yesterday and saw they were once again offering Turkey dinner and all the trimmings and for what price you ask, well you didn't but I'll tell you anyway, $99.00 Yes, that's right, $99.00 I just smiled at the sign and thought to myself, I am soooo glad Janeen is cooking the turkey this year. I can cook a ham, no problem.